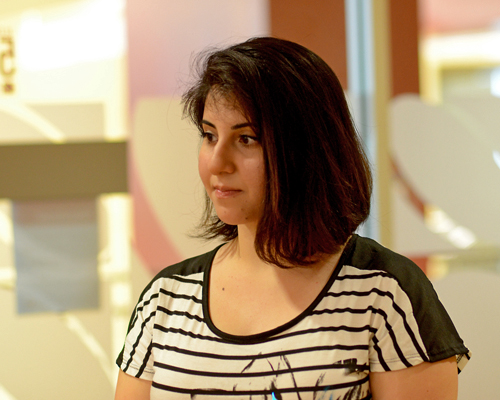 JKC scholarship recipient meets challenges head-on
Rozhin Parvaresh speaks animatedly about her passion for math and organic chemistry studies at Georgia Perimeter College. Her proficiency in English is significant: four years ago, the Dunwoody engineering major and recent Jack Kent Cooke scholarship winner couldn't form a sentence in the language. 
"I started learning English on my own—watching a lot of movies and reading a lot of books," Parvaresh says. 
"I came to the United States and was living with my cousin," the Iranian native says. "My dad had studied in the U.S. and got his degree here. He said, 'if you get degree in the U.S., you have more opportunities in the world."'
Parvaresh says she came to GPC because it was "friendlier, rather than a bigger school. I could be more social with my teachers, and there were smaller classrooms--which I appreciated a lot," she says.
Tackling a challenge like learning a new language is typical of Parvaresh's determined mindset, say her professors.
"The first time I met Rozhin she was working cutting sandwiches at the Campus Café," says Dr. Jay Dunn, a GPC Dunwoody science professor who was one of several professors recommending Parvaresh for the prestigious Jack Kent Cooke. The scholarship provides up to $40,000 a year for three years for Parvarash to continue her undergraduate studies.
"I saw she had a system of cutting the sandwiches—I told her she was cutting sandwiches with the precision of an engineer—and asked her if she considered studying engineering," said Dunn.
That conversation with Dunn encouraged her, Parvaresh says. "I was good at math, but I wasn't sure where I wanted to go with it. In Iran, girls were not allowed to major in fields like engineering," she says. The next semester, she enrolled in Dunn's physics course and never looked back.
With her 3.98 GPA, Parvaresh has accumulated a near perfect score in her math, physics and astronomy courses, laying the foundation for an engineering degree. Active in the campus Space Club and in the Phi Theta Kappa honor society, Parvaresh distinguished herself early on, says Dunn. "She is one of the most resourceful and best critical-thinking students I've had," he says.
But one area—chemistry—seemed especially daunting. "I was intimidated by chemistry," says Parvaresh. "I knew it was my weak spot. So I chose it—I needed a challenge."
Now organic chemistry is her favorite subject. "I love organic chemistry. I am not good at memorizing, but I love looking at organic reactions and compounds and seeing their relationships—it really clicks for me."
Dunn also encouraged Parvaresh to study astronomy.  "After she finished Physics II with me, I convinced her to do some additional research. So she spent a portion of last summer learning the computer programming language that astronomers use, processing data collected from the Hubble space telescope to study the gases emitting from black holes and how they affect the environment around them," he says. The experience made Parvaresh a fan of astronomy for life, she says.
When she isn't studying or doing research, Parvaresh tutors students at the Dunwoody Campus Learning and Tutoring Center. She also helps high school students prep for the Scholastic Aptitude Test (SAT) in math, physics and chemistry.
She is has been accepted to Georgia Tech and the University of Minnesota and plans to pursue a degree in chemical or petroleum engineering. 
"I am going to miss this place," Parvaresh says of GPC. "I've been here for three years, and it's been an honor—my professors and the students I've met have had a real impact on my life."
Related stories:
Two Georgia Perimeter College Students Win Jack Kent Cooke Scholarships
Award ends excuses, increases options, says JKC winner
if ($teaser || !empty($node_content['comments']['comment_form'])) { unset($node_content['links']['comment']['#links']['comment-add']); } ?>