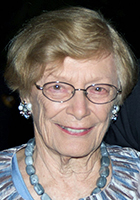 Ann Brewer estate endows Newton scholarship
A new scholarship is available to Newton Campus students, thanks to a passionate supporter of Georgia Perimeter College.
Ann Brewer, a long-time Covington resident who died in January at the age of 85, endowed a $50,000 gift for the college from her estate.
The Oby T. and Ann C. Brewer Scholarship provides $2,500 for tuition, fees, books and educational expenses each year to a qualified student. The deadline to apply for the scholarship is Oct. 1, 2015. Interested Newton Campus students should visit www.gpc.edu/scholarships for more information about the opportunity and for application information.
A frequent visitor to the Newton Campus, Brewer lived in the antebellum Mount Pleasant home adjacent to the college. She enjoyed meeting and getting to know students, says Dr. George Lonberger, GPC Newton sociology professor. Lonberger took his students to Mt. Pleasant every semester to learn about the home's historic Graves family cemetery, he says. While there, they would help clean the cemetery.
"I would bring my students over there to work on the cemetery in the morning and then we'd sit on the back deck of her home, and she would have chocolate chip cookies and drinks for the kids and always have a guest speaker to tell the students the history of the area," says Lonberger. "She was the kind of person who seemed to know everybody and never forgot a student. She was just so happy that we would use the cemetery as a learning resource; she enjoyed that so much. She also had a love of books and learning."
GPC Newton math professor Dr. Sallie Paschal first met Brewer during the dedication of the campus in 2007.
"Ann Brewer was one of the most extraordinary women I have ever known," Paschal says. "She was a leader and a friend. Ann loved her home and her friends and her housekeeper/companion/friend Arcie. She was truly one of our area's most unforgettable characters."
if ($teaser || !empty($node_content['comments']['comment_form'])) { unset($node_content['links']['comment']['#links']['comment-add']); } ?>