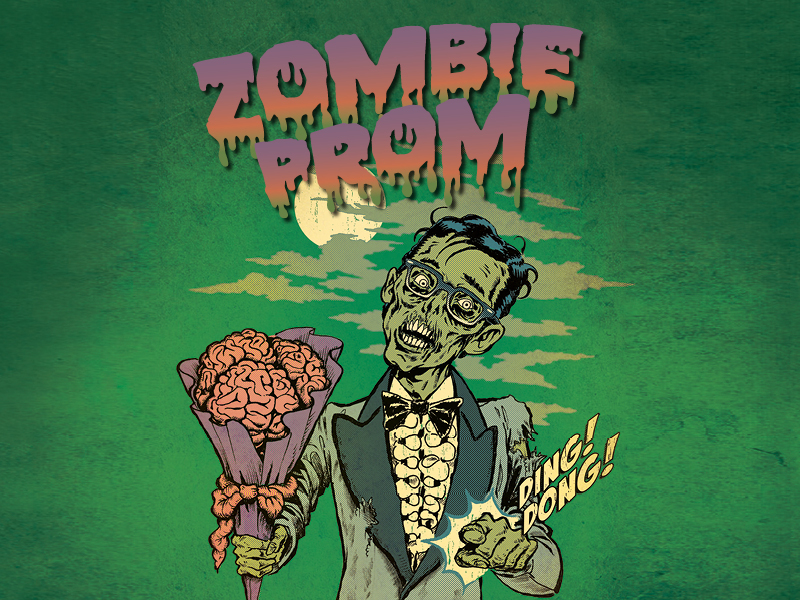 Zombies take the stage for 'spooktacular' musical
Just in time for Halloween—it's Zombie Prom time.
Take a 1950s-style musical, and a comic book love of all things zombie. What you get is the Theatre Arts Guild's fall production of the "spooktacular" musical, "Zombie Prom," which opens Friday, Oct. 30 at Georgia Perimeter College's Cole Auditorium on Clarkston Campus. And, in the spirit of the season, theatergoers are encouraged to dress in their favorite costume to compete in a costume contest for the Oct. 31 performance. (Zombie attire is encouraged, but not required.)
Directed by J. Ashley Butler, "Zombie Prom" centers on the relationship of a pretty high school senior and her "bad boy" boyfriend, who takes his motorcycle for a spin into the town's nuclear waste dump, and comes back to her "glowing."  He still wants to take her to the prom.  
In her director's notes, Butler says, "What do you get when you combine the paranoia of the nuclear '50s, the myopic view of teenage love and the inconvenience of turning into a zombie right before prom? You get "Zombie Prom."  We hope you'll enjoy our little romp through musical madness as we unfold the story of Jonny and Toffee and their ill-fated romance. And remember, zombies are people, too.  Or at least, they were."
The production is based on the off-Broadway play based on a story by John Dempsey and Hugh M. Murphy, with music by Dana P. Rowe. The GPC production is choreographed by Misty Barber, with music directed by Patrick Hutchison.
The play is at 8 p.m. Oct. 30-31 and Nov. 7, with 3 p.m. shows Sunday, Nov. 1 and Nov. 8. Tickets are free for GPC ID holders, with general admission tickets $20; $15 for 55 and over, and $5 for non-GPC students. The production is suggested for children ages 8 and older. Neither infants nor toddlers will be admitted.
The Cole Auditorium is in the Fine Arts Building, 555 North Indian Creek Drive, Clarkston.
For tickets, call 678-3572, or email gpctagtx@gpc.edu
if ($teaser || !empty($node_content['comments']['comment_form'])) { unset($node_content['links']['comment']['#links']['comment-add']); } ?>