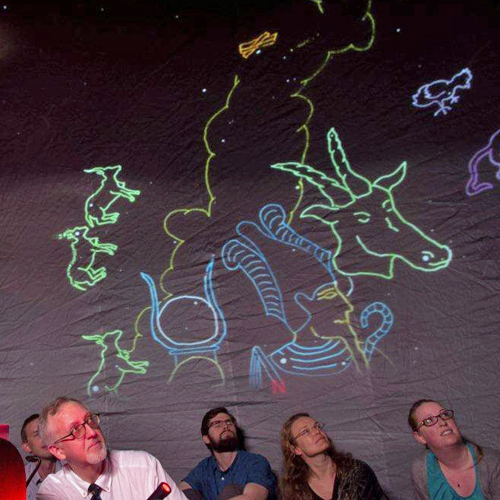 New planetarium a star attraction at GPC
It looks like a giant black igloo on the outside.
But crawl inside, and the stars come alive.
The "igloo" is actually a large inflatable planetarium. It was demonstrated to faculty members during Georgia Perimeter's college-wide Faculty Development Day Sept. 29.
Dr. Jim Guinn, physics professor, and Kathy Hall, coordinator of the DeKalb Early College Academy, received a $16,500 STEM grant to buy the inflatable planetarium for use in astronomy classes and other courses. It also will be used as an outreach tool at local elementary schools.
The planetarium comes equipped with cylinders of the Northern Hemisphere, as well as constellation cylinders that depict familiar—think Gemini and Taurus astrological signs—and legendary stars including Sirius Betelgeuse and Polaris. The cylinders can be rotated to show the stars' locations during the different seasons as well.
"Many of today's leading scientists chose their careers because they were captivated by the experience of a planetarium visit," says Guinn. "The goal of our project is to utilize the STARLAB Mobile Planetarium in a wide variety of venues. This program will augment the three active stationary planetariums in metropolitan Atlanta and will reach a far wider audience."
Guinn plans to use mobile planetarium in his astronomy classes to see if it can improve student learning in naked-eye astronomy, which is a component in a number of different GPC courses.  Guinn can also give presentations to other faculty who want to use the planetarium in their curriculum.
Guinn's presentation was part of a full morning of sessions aimed at improving faculty teaching methods. Faculty Development Day was presented through the college's Center for Teaching and Learning.
if ($teaser || !empty($node_content['comments']['comment_form'])) { unset($node_content['links']['comment']['#links']['comment-add']); } ?>