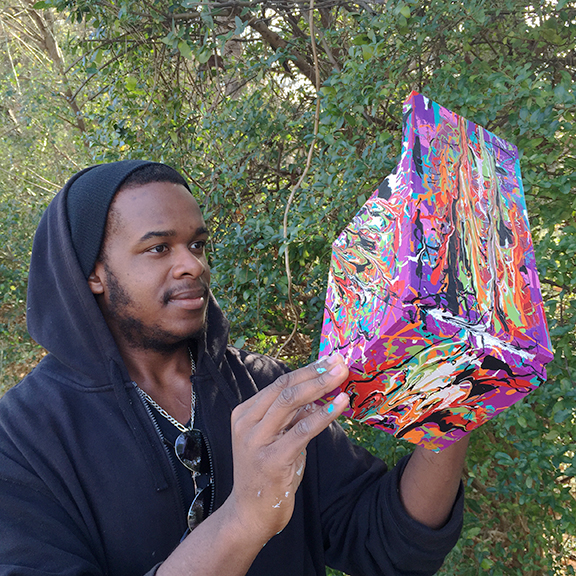 Birdhouse project combines science and art
Colorful birdhouses will soon dot a special birdhouse trail in Decatur's Georgia Perimeter College Native Plant Garden, thanks to a collaborative project between students in Dr. Dan Bulger's environmental science class and Phil Mosier's art students.
"I was talking a lot about sustainability and conservation of species in my environmental science courses, but I realized we weren't actually doing anything about it," says Bulger, who teaches environmental science and plant biology courses at Georgia Perimeter. "Making birdhouses was a way to involve students in an activity that involved a legitimate conservation science."
Students brought the wood to class and made the birdhouses; then the houses were sent to Phil Mosier's art students who gave their own artistic spin on the wooden structures.
"I found that how appreciative the students were that I assigned this birdhouse project to them. They were proud being a part of a  conservation effort," says Bulger.
Once installed on the trail, students will collect data on the kind of  birds that go inside the homes, and what types of materials birds use to make their nests to help monitor species and conservation efforts.
Before they go up on the trail, more than 25 birdhouses will be on display Saturday, Dec. 5, during The Stacks Lofts and Artists Tour at the historic Fulton Bag and Cotton Mill. The tour benefits local charities. The tour will be from 1 p.m. to 5 p.m. For info go to http://thestackslofttour.com
if ($teaser || !empty($node_content['comments']['comment_form'])) { unset($node_content['links']['comment']['#links']['comment-add']); } ?>