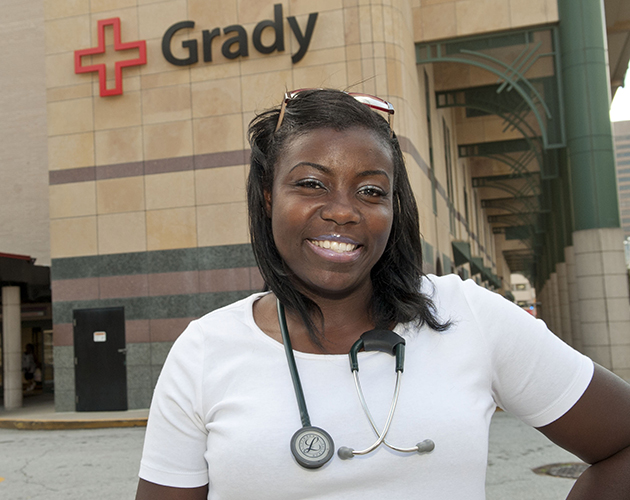 Giving up was not an option for nursing grad
Georgia Perimeter College alumna Ebonee Rice knows the meaning of determination. After all, it was determination, coupled with support from GPC, that carried the 2013 nursing graduate through life's interruptions and responsibilities to her dream of a career in health care.
The mother of seven children, who completed her nursing degree in May 2013 and passed the NCLEX (National Council Licensure Examination) for registered nurses, now works at Atlanta's Grady Memorial Hospital.
"GPC gave me another chance to succeed," says Rice—who worked through the nursing program twice before she graduated. She did this while also raising her family and caring for ill relatives.
Rice says she originally wanted to become a physician, but her experience dealing with family responsibilities changed the course of her life's ambition.
"I attended Howard University as a Premed major, but when I became pregnant with my second daughter, I withdrew from the program," she says.  During her pregnancy, and afterwards, she cared for her terminally ill mother.
"While she was in hospice care, I was her primary caretaker, and I realized I'd rather be a nurse than an M.D.," she says.
After her mother's death, Rice moved her family to Georgia and began a medical assistant program at DeKalb Technical College (now Georgia Piedmont Technical College), while also working at a doctor's office. When she completed that program, she applied to GPC's nursing program in 2010.
Family needs intervened again, however. "While I was in (GPC's nursing) program, a close family member had a stroke," Rice says. The semester was "very stressful," and she failed to pass the medical surgical course by two points," she says, and did not graduate.
Still, she did not give up. "I had very motivating instructors who encouraged me to reapply," she says. She returned to the nursing program in 2012, repeated her courses and passed with a B average. She earned her high grades while also dealing with extreme financial issues, including a near eviction of her family from their home, says Rice.
 "Determination is definitely a word I think about when I think about Ebonee," says Susan Buchholz, retired GPC nursing professor and one of Rice's instructors. "She never used her family stressors, or the fact that she had seven kids, as an excuse not to continue. She was determined to finish this degree and become a nurse. 
At GPC's 2013 nurse pinning ceremony, Rice received the "Psychiatric Nursing Award," one of the clinical awards given by the nursing faculty for her clinical excellence in this field, says Buchholz.
"When many people told me that I wouldn't make it, they helped me here at GPC,"
says Rice. "I love GPC. This is where it all began for me as a RN and will forever be my foundation of my career."
if ($teaser || !empty($node_content['comments']['comment_form'])) { unset($node_content['links']['comment']['#links']['comment-add']); } ?>