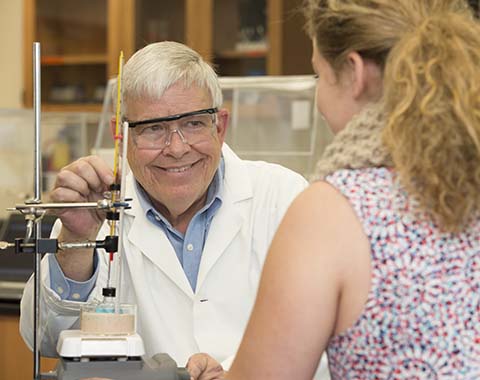 Dan Paschal brings CDC experience to classroom
Name: Dr. Dan Paschal
Job: Currently I'm assistant professor of chemistry on the Newton Campus. I recently stepped down as interim chair of the science department to go back in the classroom.
My favorite thing about working at GPC: The sense of family among the faculty and staff and the common commitment to bring the very best to our students. 
Education/work background: Ph.D. from Georgia Tech in analytical chemistry. I've been an assistant professor of chemistry at Illinois State and a research chemist and supervisory research chemist at the Centers for Disease Control and Prevention. This is my third career: I've worked at GPC part-time or full time since 1999.
Hometown and favorite places: I'm a native Atlantan! I live with my lovely wife Carol in Social Circle (close to the Newton Campus). My favorite place is St Simons Island where Carol and I visit every spring and summer, and a close second is Waynesville, N.C., where we visit each fall. Who doesn't love the beach and the mountains?
Family: I am the oldest of three sons. Carol and I share four children and four grandchildren.
Favorite book: "Zoo" by James Patterson.
Favorite movie: My favorite movie and probably Robert Duvall's finest role is "Tender Mercies."
Professional goals: Provide my students with energetic, engaging and relevant learning experiences by bringing my real-world professional life into the classroom. 
Most influential person in my life and why: The Rev. Bill Landiss, campus minister at Georgia Tech. He changed my perspective on life.    
Leisure activities: Bluegrass music, reading, Bible study, internet surfing, learning Windows 10, enjoying my cat and my grandchildren.
Pet peeve: Folks who are perpetually late to everything.
Something most people don't know about me: I sing in a gospel quartet called "The Fishers of Men." I also used to collect Depression glass.
if ($teaser || !empty($node_content['comments']['comment_form'])) { unset($node_content['links']['comment']['#links']['comment-add']); } ?>