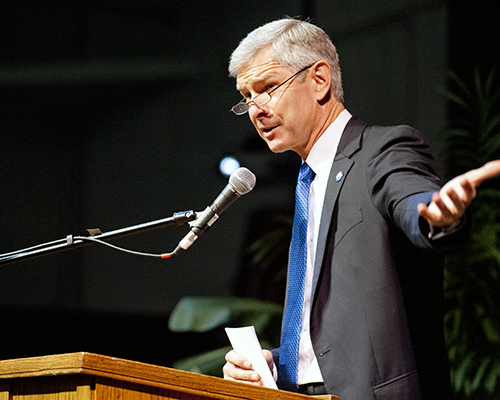 Becker's message to GPC: 'imagine the possibilities'
Georgia Perimeter College marked its final Fall Convocation (see separate story) with keynote remarks from Georgia State University's president.
Dr. Mark Becker encouraged attendees to "imagine the possibilities" a combined Georgia Perimeter and Georgia State can accomplish, once the University System of Georgia's Board of Regents finalizes consolidation of the schools this January.
"We're becoming one," Becker said, addressing an auditorium filled with Georgia Perimeter faculty and staff and a number of his executive team members. Opportunities to expand on the successes of both institutions are boundless, Becker said, stating that "there's so much to be proud of, but we are by no means done."
The consolidation of Georgia State University and Georgia Perimeter College will make it the state's largest higher education institution, with more than 50,000 students. Becker drew applause when noting that, already, more than 20 percent of students pursuing baccalaureate degrees at Georgia State started at Georgia Perimeter, a two-year college with more than 20,000 students studying online and on five metro Atlanta campuses.
Becker also emphasized Georgia State's national recognition as a research university especially adept at retaining and graduating students from various socioeconomic backgrounds. Six of every 10 Georgia State students receive Pell awards, a needs-based grant for low income students. Despite this, Becker said Georgia State's graduation rate stands at 55 percent. In raw numbers, the university is graduating 1,700 more students per year these days, which Becker said beats national rates.
"Georgia State University is the only university in the United States of America that has eliminated all disparities in graduation rates based on race, ethnicity or income … and we're proud of that," he said.
The Georgia State success model is built in part on data-driven strategies and experimental programs that, when effective in small groups, are scaled to benefit the entire student body. Intense student advising is a key focus, with more than 43,000 face-to-face advisor meetings with students during the last year. Then there's Georgia State's size, (fall 2014 enrollment was 32,556), which Becker said matters greatly in terms of being able to attract resources.
"We're already making investments for the tools that you will use, whether it's around advising, scheduling, classroom allocations, etc.," he told Georgia Perimeter faculty and staff. 
Becker said the country will be watching to see just how successful a consolidated Georgia State and Georgia Perimeter College can be in graduating even more students and spurring them on to viable careers and professions that lead to a stronger United States.
"We have a shared passion for students," he said. "We have a shared commitment to demonstrate to this nation that all students can be successful."
if ($teaser || !empty($node_content['comments']['comment_form'])) { unset($node_content['links']['comment']['#links']['comment-add']); } ?>