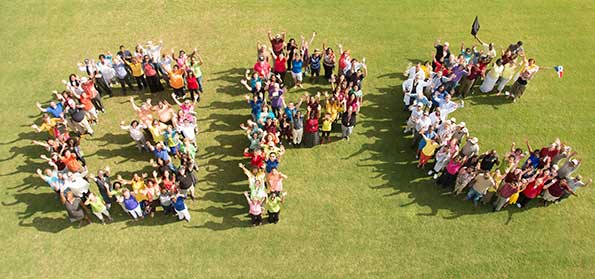 What people, places, moments or memories represent the best of Georgia Perimeter College? Did a student inspire you? Were you moved by a caring professor? Maybe you attended a Fine Arts performance or shook the bleachers while watching the Jaguars play.  What makes GPC special? That's what we asked. Here's what you said:
---
FIRST CLASS ~
"The Dental Hygiene program remains one of the best things about GPC," says Dr. Becky Weinman. "I was a member of the first Dental Hygiene graduating class in 1977, when it was DeKalb Community College. The head of the department was Kim Rogers, and she was very neat and professional, and we all took our lead from her. We all wore white polyester pantsuits, white nurse caps and shoes. … We felt we had to prove ourselves, being the first class of the program—and frankly, we were all overachievers, I think. There was a lot of camraderie, and I still remember the professionalism I experienced."
– Dr. Becky Weinman
Dr. Weinman went on to graduate from Emory University's School of Dentistry. She recently retired from her dental practice in Buckhead
---
PLEDGE OF SERVICE ~
"The best of GPC has always been the non-traditional students. One of my favorite memories is taking nursing students with faculty to Honduras to teach the nurses and nursing students there using materials we had translated into Spanish. We exchanged nursing pledges and nursing pins from each of our countries."
– Rosemary Robertson
associate professor, Nursing
---
MR. CHERRY'S DREAM ~
"In my mind, the best of Georgia Perimeter College is its history.
The college started out as a dream in the mind of Jim Cherry. At the time, he was the superintendent of schools in DeKalb County.
Mr. Cherry wanted a system of education in his county that went all the way from kindergarten to two years of college. The citizens of DeKalb County and the DeKalb County Board of Education helped him establish DeKalb College. The Clarkston Campus of Georgia Perimeter College opened in 1964 as DeKalb College.
Mr. Cherry's dream has been transformed and expanded over the years from DeKalb College to Georgia Perimeter College. The two-year college has grown into five campuses strategically located throughout metro Atlanta to build confidence in recent high school graduates to conquer higher education. Through the use of technology, the innovative institution added an online campus that allows students to attend class virtually and from anywhere. A separate Office of Information Technology location has been added for communication and technological support.
Although the college is about to go through another transformation, the history of GPC should never be forgotten nor erased. The Jim Cherry Learning Resources Center  on the Clarkston Campus stands as a memorial about how one man's dream can impact so many lives."
– Martha Murray
administrative secretary, Clarkston
---
OPPORTUNITY TO SERVE ~
"I first stepped into a classroom at DeKalb College in 1979, onto a brand new Dunwoody Campus and into a brand new classroom in Building A, to follow my passion of teaching economics. Since those early moments, I have not ever had a 'second thought' concerning why we are here.
For me, the best thing about GPC is serving our students and offering them the greatest opportunity of lifetime—the opportunity for a college education. I have so enjoyed these 35 years, the many challenges we have faced, the many accomplishments that we together have achieved and, most of all, the many students we have had the opportunity to serve."
–Tina Philpot
interim dean, Business, Kinesiology and Health,
Sign Language Interpreting
---
UNIQUE EXPERIENCE ~
"For me, the best of GPC is the diversity. Students who are from various cities, states and countries, faculty members whose professional experiences go beyond the classroom and staff members with knowledge and expertise to make the college run are all what make GPC a unique place. The best of GPC is the uniqueness and diversity of all who make GPC a great institution of higher learning."
– Brandi Meriwether
coordinator, Health and Wellness, Dunwoody
---
SPANNING THE AGES ~
"In my ENGL 1101 class during fall 2013, I had two students named Rachel sitting right next to each other. This was not that unusual. What was unusual was the age difference. One Rachel was 17 and a Dual Enrollment student; the other Rachel was 71 and a Prime Timer student. In addition to being a cool age palindrome ('1771'), this struck me as a perfect metaphor for GPC's mission to offer students of all ages and stages in life 'a better way forward.' Both students flourished and enriched our class dynamic that semester. I'll always remember that Rachel duo as part of the best of GPC."
– Gina Flowers
assistant professor, English, Dunwoody
---
BENDING THE RULES ~
In January 1978, Pulitzer-Prize-winning and internationally celebrated playwright Tennessee Williams was in Atlanta for the premier of his play "Tiger Tail" at the Alliance Theater. A student from then DeKalb Community College was seriously injured while voluntarily working on the set construction for the play. Williams graciously visited the young student and asked what he could do to raise his spirits after the accident. The student asked Williams to speak at his college, and Williams agreed. Dr. Faye Clark, Drama and Speech department chair at the time, recalls the day Williams visited the campus:
"We had very short notice of Tennessee Williams' appearance—maybe a day or two. There was no email then, of course. In spite of that, word got around of his imminent appearance, and the [Fine Arts] auditorium filled quickly on the morning of Jan.11, 1978. After the seats filled, more people arrived. … It was so crowded that I had to go up to the lighting booth and observe his reading from there.
It was obvious that he suffered from severe stage fright. He had instructed the lighting people to block out the audience by putting bright lights on him and having the auditorium completely dark. He did not want to see anyone in the audience, as that (obviously) would escalate his stage fright. He sat in a light green Naugahyde chair from my office and did his reading.
Jeanne Creech, who went to pick up Williams to drive him to the campus the morning of his appearance was asked by him to stop at a liquor store as he wanted to buy a bottle of wine to have a drink before he spoke. She was a little hesitant to do this; but this was Tennessee Williams, so she did so. She and I shared an office suite.  She brought Williams to the office and whispered to me that he wanted to have a glass of wine in the office before he spoke. I knew, as she did, that this was very much against the rules of 'no alcohol on campus' but, again, this was Tennessee Williams, so I said OK.
Minutes later, as Williams was drinking the wine and with the open bottle on a desk, the college president, Dr. Wayne Scott, entered the office. As president, he wanted to meet and greet Williams before the reading.
Fortunately, Dr. Scott was understanding, and he said not a word about the wine. He met Williams, offered his welcome, and left the room. We never heard a word about the 'no alcohol on campus' rule from Dr. Scott. Our jobs were safe!
So, Tennessee Williams sat in the cheap, green chair that day on the stage of the Fine Arts auditorium at the Clarkston Campus of DeKalb College and, fortified with wine, read to a standing room crowd from his short story, "The Coming of Something to the Widow Holly."
– Dr. Faye Clark, former GPC professor
(as told to Dr. Stuart Noel, dean, English)
---
INSPIRATION ~
"The greatest thing about GPC is the students. … I love watching that light come on for them so they can make a difference in their lives and get an education."
– Scott Hardy
GPC alumnus; director, Facilities Operations
---
AMAZING TALENT ~
"One of the best things about GPC was the Theatre program at Newton. These were productions completely done by our students. For a small campus, we had amazing talent as actors, set builders and directors."
– Suzanne Dickerson
administrative assistant, Academic Affairs, Newton
---
SIMPLE ANSWER: THE PEOPLE ~
"About four years ago, a fellow political scientist from another institution within the University System of Georgia asked me, 'You've been at GPC for 20 years. Why do you stay?'
I replied simply, 'The people.'  In my 25th year here, my answer remains the same."
– Adam P. Stone
associate professor, Political Science, Alpharetta
---
A SPECIAL SUMMER SATURDAY NIGHT ~
" 'Today is gonna be the day that they're gonna throw it back to you.'
I stopped in the courtyard when I heard this line.  What is this song? I know this song. A beautiful, long-braided, African-American woman strumming an oak-finished guitar stood earnestly at the center of the rented stage placed at the bottom of the sloping grass in front of SC building. Families on blankets and beach towels filled the makeshift amphitheatre on a summer Saturday night. And I walked closer to the grass to listen.
'Back beat, the word is on the street that the fire in your heart is out.'
The guitar is now a percussive engine driving the song as the singer is slapping the soundboard for emphasis like I had seen Odetta do in old monochrome film clips. Why is this song familiar when everyone talked about this singer as 'new' to the scene? She was a pro basketball player's daughter; but, she was highly regarded by the promoter who brought the performers for this show in Decatur.
'I don't believe that anybody could feel the way I do about you now.'
I look over at Rhonda Wilkins, who was serving as dean of students at the time, to see if she was recognizing the song. But, she, like most of the audience, had become transfixed on the chanteuse that was slowly mesmerizing the crowd.
I looked to Wayne Bullard, the plant manager who had not only arranged with the vendor to set the stage and power for the show but also arranged for a wedding in the Botanical Gardens, earlier that morning during another one of his 16-hour work days.
Wayne waved to me with a smile; but, I could tell he was not recognizing the song.
'And all the roads we have to walk are winding.'
The guitar is now spitting out the notes under her finger-picking. This song is not hers; but, she is making it hers. I have heard this song on the radio and it is full of bombast. Now, this song is delicate and mature.
'Because may-beeeeeeeeeeeeee. You're gonna be the one that saves meeeeeeeeeeee.And after all, you're my wonderwall!'
Of course, it's that crappy Oasis song. Yes, Oasis who would be 'bigger than The Beatles' in their glory days and never became bigger than Boney M. But, why is this song so good now?
I looked down and scanned my itinerary for the 6 p.m. performer: India Arie.
I made a decision that if I was needed to perform some task I would be easiest found at the edge of the audience. So I sat for the next 25 minutes transfixed as I listened to early versions of original songs 'Beautiful' and 'Ready for Love' and other tunes that three years later would be Grammy-nominated as part of the album 'Acoustic Soul.' "
–Anthony Bush
classroom and event technology coordinator
Office of Institutional Technology
---
CONQUERING FEARS ~
"My best moment in GPC was joining SGA. I don't know what I would do without it. It helped me conquer all the fears I had inside of me—from whether I would make any friends to doing well academically in school. I am proud to say I am a GPC Jaguar, and I feel so blessed for all the staff and faculty who have helped me succeed."
– Juanita Barr
chair, JAG Wellness, Alpharetta
---
NEW NEIGHBORS WITH A SIDE OF HOSPITALITY ~
"March 16, 2005, turned out to be a cold, windy, rainy day. We thought not many people would brave the nasty weather for a groundbreaking ceremony. To our surprise, cars started bumping down Cedar Lane, the unpaved road leading to the soon-to-be Newton Campus. The rain turned dirt to mud, the wind was whipping up the reception tent flaps, and yet, still more Newton County citizens came out to welcome us to the neighborhood. Many of us were shivering from the cold, but were warmed by the excitement and good cheer from our new neighbors. I'm sure there were people attending the groundbreaking because they were expected to be there, but many others truly seemed excited that GPC was moving out to Newton County. It was like being welcomed to the neighborhood by a hospitality committee with a pecan pie and a side of ice cream."
– Laura Tartak
library director, Newton
---
PEOPLE ARE THE HEART AND SOUL OF GPC ~
"I began taking classes at DeKalb College in September 1984. I was fresh out of high school, starting my first real job on the same day as I started college. I would be called a 'first-time, full-time' student in today's language. I was also the first person in my immediate family to go to college. I completed my first associate degree in 1988, after changing my major a few times, which was an Associate of Science in Computer Science. Later on, I completed an Associate in Applied Science in Sign Language Interpreting (1998) and another Associate of Science in Psychology in 2008. The last two were completed as I was working full time for the college, which I started in July 1991.
I wanted to believe, belong and become more than I was when I started. I knew that the college had resources­­—both material and personnel—that could help. While working kept me from spending as much time in the library as I might have wished, the contact I had with the people was what became, and still is, the thing that really stands out. From the faculty (some of whom I had the good fortune to later work with) to my fellow students (and those I served in my office) and to other employees I interacted with during the last 24 years—they are what makes GPC what it is—it is the people. They are the heart and soul, the spirit and strength and all that is definable about this institution."
– Elizabeth Harris
scheduling administrator, Dunwoody
---
INDIVIDUAL CONTRIBUTIONS  ~
"I believe there are many programs at GPC that really shine, and clearly these programs often take center stage at the exclusion of the individuals who run them, I'd like to recognize Laurie O'Connor, a Dunwoody Communications instructor, as a key example of the kind of outstanding faculty our campus has to offer to students.
Laurie is the faculty adviser for the Dunwoody Communications Club, a published author, a professional public speaker and an outstanding communications teacher. Laurie is a role model to students and  other faculty, like myself, on a daily basis—not only because of what she does but also because of who she is. Laurie is compassionate and kind. She's also honest and upfront about what might be required of a person and helps to encourage and inspire them to live up to their potential. She is hard-working and passionately committed to her students, colleagues, and family—a true example of the best that GPC has to offer."
– Megan Levacy
art instructor, Dunwoody
---
WHAT A PICNIC! ~
"We had the best picnics every year, right before school started. Everyone from all the campuses—whether you worked at Rockdale or Dunwoody or Decatur—we all gathered on the Clarkston Campus lawn, right around the corner of Memorial Drive and Indian Creek, and everyone brought their kids. … We grilled out, and everyone got to know each other. It was so relaxed and a great family atmosphere."
– Lori Payne
testing services coordinator, Dunwoody
---
GOING THE EXTRA MILE ~
"Attending Georgia Perimeter College was a great experience for me. I was able to meet many great professors and staff members who were so helpful and kind.
My most enjoyable experience—and the most remarkable thing that happened to me while attending GPC—happened when I had to deploy to Afghanistan. I was two or three classes shy of graduation, and I was so worried.
While I was deployed, a team of professors helped by giving me the classes online (even though those classes were not available online). They weren't going to let me fall behind.
Graduation day approached, and I knew I couldn't attend because I was still in Afghanistan. Staff members offered to invite my parents and brother to attend the graduation and pick up my diploma. But they also Skyped me into the ceremony as part of the graduation, making me feel like I was there in person.
They kept the Skyping a secret, so that my parents not only were surprised to see me on the big TV onstage, but were very happy and thankful for everything these people did for us.
I am more than grateful. Without them, none of that would have been possible. It is a cherished memory that will remain in my heart for the rest of my life. I will be thankful forever."
– Andrea Muresan
GPC alumna
Muresan is a sergeant in the U.S. Army Reserve
---
UNFORGETTABLE ~
"I am a tutor in the Alpharetta Learning and Tutoring Center. As a GPC student, actually I just studied in library and my classes, but my classes were pretty fun and impressive. I cannot forget about the memories. My professors and classmates were really kind and smart. And the gyms on the Clarkston and Dunwoody campuses were good, too."
– Youngjun Kim
GPC alumnus
(Kim is now a full-time student at Georgia Tech.)
---
A SWEET MEMORY ~
"My love of higher education dates back to the mid-1970s when I entered DeKalb Community College as a freshman in evening classes while I worked at a bank during the day. My progression from a frightened, first-generation college freshman in her early 20s to a confident graduate student at the University of Chicago is chronicled in my narrative for The GPC Story Project, 'The Stuff that Dreams are Made Of.'
One of my favorite memories from the 1970s involves another DeKalb Community College student, my future husband, Randy. If I got out of class early, I'd leave a note on his car windshield letting him know not to wait for me. ln those days before cell phones, leaving a note on a car was the only way to communicate big plans, such as, 'Meet me at McDonald's after class!' "
– Deborah Byrd
assistant professor, English, Newton
---
CROSSING BRIDGES ~
"I was tutoring in the Dunwoody Campus Writing Center on the second floor in B Building when a student asked me, 'Do you have a TV?'
'Why?' I asked her.
'To see the news,' she countered.
'What news?' I asked.
'About the buildings in New York.'
I wrote the poem below to capture a scene of what happened in the Writing Center before GPC closed down that day."
Timely Assistance
At the moment the Towers toppled, I was tutoring a group of international students in the campus Writing Center.
After lunch, a Lebanese student rushed in, bearing, a miniature American flag pinned to her yellow jacket.
Spurred by her fervor, I bought a handful of contagious patriotism, doled out miniature pins as though they were Lifesavers.
As I attached my own, she said,"Let me show you how it works."
I smiled at her offer, bent to her handiwork, savored crossed bridges on safe territory.
– Gelia Dolmascio
tutor, Learning and Tutoring Center, Dunwoody
---
A PIONEER IN HIGHER EDUCATION ~
"When I think about DeKalb College/GPC history, I think in terms of the college being, in the context of Georgia, a higher education pioneer. I believe the following is accurate in spirit and probably in fact. Consider:
• We were the first public two-year college in Georgia.
• We were the first and maybe only true community college in Georgia (a merged junior college and post-secondary tech school for several years).
•  We have been a pioneer in campus creation and development. Who else in Georgia has come close to doing what we have done in this sphere or even tried—five successful campuses, varied according to their communities, six if you count Lawrenceville and seven if you count our online program as a campus? Our enrollment dwarfs that of all other two-year colleges and many senior colleges.
• We were one of the first colleges (and maybe the first) in Georgia to develop Joint Enrollment, now called Dual Enrollment or Move on When Ready. These students have transferred all over the country, including Ivy League schools.
• We launched our Honors Program in the early '80s. A doctoral student from the University of Florida writing a dissertation on two-year college honors programs said it was one of the best designed programs he had seen in the country, not just Georgia.
• We pioneered the development of publications of student writing, The Polishing Cloth and Creative License. For years, major publishers have included essays from The Polishing Cloth as models in freshman writing textbooks used by dozens of colleges around the country.
• GPC's literary magazine, The Chattahoochee Review, has become a respected literary journal in any cultural environment: two-year colleges or universities.
• One year with academic improvement in mind, the college hosted the academic affairs vice presidents of Georgia Tech, the University of Georgia and Georgia State University. As part of the visit, we conducted a collegewide faculty meeting in a public forum setting, with just the three vice presidents and a moderator on the stage. I do not remember the names of the vice presidents or the moderator or much of anything else about this visit, but I do remember one thing, and I remember it well because it was so gratifying. That is the response each of the vice presidents made to the following question: 'What would each of you want us to change to help our students when they transfer to your college?' Each of the academic affairs vice presidents said (paraphrased): You do not need to change anything. The transfer students we get from you are doing well."
– Dr. Ron Swofford
retired professor and dean
founding president of the GPC/DeKalb College Retiree Association