Five decades of intercollegiate athletics at GPC (formerly DeKalb College) provided scholarships, championships, contenders, awards  and 'the college experience' for thousands of talented student athletes.
by Wade Marbaugh
Georgia Perimeter College's half-century of athletics achievements began with a single phone call in the earliest days of the college's existence.
DeKalb College founder Jim Cherry telephoned Bill Kemp, asking Kemp to launch an intercollegiate sports program at the newborn college. It is unlikely either man could have fully envisioned the 50 years of glorious events the call spawned.
Thousands of student-athletes graced the fields and courts of DeKalb College, later named Georgia Perimeter College. Many would not have attended college without the sports program, and it enriched their lives as well as the lives of students, faculty, staff and fans. It quickly became a valued component of "the college experience."
"We had a wide range of student athletes academically," says Greg Ward, a baseball coach turned athletic director. "The athletic program provided access to college that wasn't there for some athletes. Athletics was a major part of the philosophy that got DeKalb College started and was carried on at GPC."
Kemp accepted the job, and by the 1965-66 academic year, intercollegiate sports were in full swing. Early offerings included golf, gymnastics, volleyball, swimming and track and field. When the program ended in Spring 2015, eight sports were still going strong: baseball, softball and men and women's basketball, soccer and tennis.
The program's longevity and the heights to which coaches under athletic directors Ward and Albert Barney took their teams are noteworthy. Despite humble beginnings—when players maintained the fields and coaches drove vans to away games—the college rose to national championships and top tier finishes in the 1990s and 2000s and was perennially among the region's two-year college contenders.
The recorded history of athletics at the college is incomplete. There were gaps in recordkeeping, and archives were lost. But highlights include the men's basketball team's third-place finish in the 1976 National Junior College Athletic Tournament and baseball's NJCAA runner-up trophy of 1977. Seven Major League Baseball players emerged from the college's teams. Men's tennis took four consecutive national titles, with the women's team joining them in a dual national sweep in 2000. Men's soccer took six consecutive trips to nationals, with GPC capturing the national championship in 2005 and three runner-up honors. Women's soccer earned a third-place finish at nationals.
College teams boasted a multitude of conference championships and all-conference and All-American recipients. Kemp, along with coaches Joyce Garrett and Marc Zagara, earned induction into the NJCAA Hall of Fame.
The achievements and accolades don't stop there. There were championships, awards and top players too numerous to cite in the following pages. To all of them—the teams, players and coaches who made us proud during the Glory Days—we say thank you.
---
Baseball
Georgia Perimeter College alumnus Marlon Byrd scored a run and made a jaw-dropping defensive play to help the National League win the 2010 Major League Baseball All-Star Game. His former GPC teammate, Nick Green, manned all nine positions during his Major League career. Robby Hammock, who played on the college's 1996 and '97 teams, caught Arizona Diamondback Randy Johnson's perfect game against the Atlanta Braves at Turner Field in 2004. The three players exemplify the quality of the baseball program at Georgia Perimeter College.
GPC's highly successful program began in the 1960s when the institution was DeKalb College. Bill Kemp, who coached multiple sports, hired Tip Goza as head baseball coach.
The program received strong longtime support from DeKalb County Board of Education member Joe Willingham, who earned the title "Mr. Baseball." Willingham saw that lights were installed on the new field and, over the years—as a Major League scout—helped players make their way into professional baseball.
When DeKalb College had three campuses, each had its own sports programs, and at one point, all three baseball teams were ranked in the NJCAA Top 20 poll.
"It was instant rivalry, a community battle. It was like a sibling rivalry," recalls Doug Casey, who played for the Indians of South Campus (Decatur Campus) and later became the college's winningest baseball coach. Casey played on the 1977 Indians team coached by Jim Morris that finished second in the nation at the NJCAA national tournament.
Tom Cantrell, who coached Byrd and Green, took a team to nationals in 1998. Green, along with his twin brother, Kevin, played on that team.
In 1999—the year Byrd, now with the San Francisco Giants, also played on the team­­—Nick Green produced stunning stats: 29 home runs, 80 RBIs and .424 batting average.
After Cantrell left the college, GPC baseball slumped until Danny Blue took the helm in 2007 and rebuilt the program.
Teams under Blue and subsequent head coach Brett Campbell won four regular season titles and two conference tournament championships. Campbell's team won 21 consecutive games in 2013, and in the MLB drafts of 2013 and 2014, eight former Jaguars were selected to play professional baseball. To date the program has launched seven Major League players: Byrd, Green, Hammock, Mike Sharperson, Herm Winningham, Milt Hill and Glenn Sutko.
Radio-style sports webcasts presented by broadcasters Tom Whitfield, John Morgo, Wade Marbaugh and Daniel Bolton were popular amenities. One baseball dad said that while on a business trip in Hong Kong, he rose at 6 a.m. in his hotel to listen to his son's game at Jaguar Field. It truly was baseball—as Whitfield signed on to each broadcast—"around the corner and around the world."
---
Softball
A certain itinerary became very familar to the Georgia Perimeter College softball Jaguars:
Delta Air Lines, departing Atlanta, arriving in Las Vegas.
Rental vans to St. George, Utah.
Vans from hotel to The Canyons softball complex.
Such was the team's course of travel to the NJCAA national tournament for three years between 2010 and Spring 2015. Earlier, the 2007 team took a bus ride to Plant City, Fla., for nationals. It was a heyday in the college's decades of softball.
The modern era began in 1997 when Dr. Bonnie Young coached the college's first fast-pitch team. Ed Schutte began in 2002, and in his 11 seasons as head coach, his teams won four regular-season titles, went to nationals twice and produced seven consecutive 30-win seasons.
Coach Ken Deyton kept up the pace in the final three years, winning two GCAA tournament championships to go to nationals.
Pitchers are critical in softball, and GPC's rosters boasted some of the greatest in the region.
Liz Hyman pitched GPC to its first conference title in 2003 and at Georgia State University set the school record for strikeouts in a single season, with 260.
Pitcher Missy Herren and All-American centerfielder Brittany Daniel powered the 2007 team to a fifth-place finish at the national tournament.
In 2009, freshman Christina Ezell led all NJCAA pitchers in strikeouts per inning, and her arm took the Jaguars to nationals. In the conference tournament opener, she won three games and used her bat to drive in the winning run in two of them with a home run and a single. As a sophomore, Ezell was named to the All-America team after posting a school-record 662 career strikeouts.
Like Ezell, pitchers Lyndsey Parden and La'Brisha Washington each won three GCAA tournament games convincingly to send Deyton's Jaguars to nationals in 2013 and 2015, respectively.
Hitting highlights included four home runs in the 2015 championship game and homers at nationals by Lauren Mathis (two), Jenna Carr and K.K. Parrish.
The Jaguars' final out at nationals in Utah this spring closed the books on Georgia Perimeter College's athletic program, allowing the very last GPC game to occur at nationals.
---
Men's Basketball
Georgia Perimeter College entered the NJCAA spotlight as DeKalb Community College in 1976, when coach Roger Couch's DeKalb Central (Clarkston) Patriots finished third in the men's basketball national tournament. At that time, DeKalb's Central and South campuses each had a team, and the competition was fierce.
"When they played each other, the gyms were jam-packed full," says former athletic director Greg Ward. "We had some fantastic teams."
Over the decades, the program competed well in conference competition and made frequent appearances in NJCAA national polls and tournaments. That is especially true from 1993—when coach Ralph Barksdale led the DeKalb College team to a conference championship—through the 2000s—when Alfred Barney built the Jaguars into a regional force. Between 1993 and 2012, the men's basketball team won 10 conference championships, including four consecutive from 1998 to 2001 and three straight from 2006 to 2008.
Barney's teams went to nationals seven times and made the final four in 2003.
"It is very special to play for a national championship," says Barney, who won many honors in his 19 years as head coach. But, like other GPC coaches, Barney had greater objectives.
"We don't just try to build champions on the floor. We try to develop character in our players so they can be champions in the classroom and in life," he says.
Among a legion of individual standouts were All-American Antonio Haynes, who led the NJCAA in assists; Shane Henry, who won a full scholarship to play at Virginia Tech, as did Musa Abdul-Aleem at South Florida and Roderick Trice at South Carolina. Trice played professionally in Europe. Randy Orr, a 6-foot-11-inch center, enjoyed a long professional career in Europe, Asia and South America.
Earl Calloway played at Indiana University and went on to play professionally in the Continental Basketball League, one step from the National Basketball Association.
The great moments on the court are many, but a precious memory is a simple gesture from a referee. Perry Sharp, who officiated at the national tournament when Orr and his teammates advanced to the final four, approached Barney and said, "I want my son to play for you."
In a letter to GPC President Jacquelyn Belcher, Perry wrote, "Your players played hard and kept their mouths shut and played the game the way it was intended."
---
Women's Basketball
In 2005 the Georgia Perimeter College women's basketball team lost a conference game in Albany to Darton College. Three years later, in January 2008, the Jaguars again fell to the Cavaliers in Albany, 55-51. Between those two losses, GPC won 40 consecutive games against conference opponents, in the regular season and in tournaments.
Head coach James Waldon's squads snapped up four conference championships during that stretch, along with four district titles that sent the Jaguars to the NJCAA national tournament each year.
Women's basketball began at the college in the early 1970s, launched by former faculty member Jo Ann Jancik, who volunteered her time to coach the young women. "At the time, there were almost no teams from two-year schools for us to play," she says. "We had to play four-year schools."
The program gained national attention during the Waldon era, which featured his trademark full-court press and uptempo offense. In his 17 seasons at GPC, the Jaguars won seven regular-season titles and seven conference championships, going to nationals six times in an eight-year span.
The greatest finish came in 2011 with three wins at the NJCAA national tournament, taking seventh place in the final rankings. Ry'van Buchanan was named to the All Tournament team. Jasmine Jones and Nicole Wells signed full scholarships to play at Wichita State, while Buchanan and Tyre Smith won full athletic scholarships that spring.
Before signing to play at Troy State, Ronita Garrett ( who also played on the 2011 team), turned in a spectacular All-American season as a sophomore in 2012-13. An outstanding rebounder (12.4 per game, second in the conference), she posted 23 double-doubles and had a triple-double (28 points, 13 rebounds and 10 assists). In a tournament game, Larissa Stafford scored 41 points and Garrett 26 to grab an overtime victory.
Individual stars were many over the years—All-American Taliah Roberts; conference Players of the Year Phebe Smith and Leslie Phillips; Brittany Baity's college record of 497 career assists; Anikia Jawara's success at New Mexico State; Yvonna Dunkley's 30 points in a tournament game; Abrelyn Rackley's 16 points per game—to name a few.
In the final game of GPC women's basketball, a tournament game at Georgia Highlands College, Danielle Clark gave her all with a 30-point performance.
---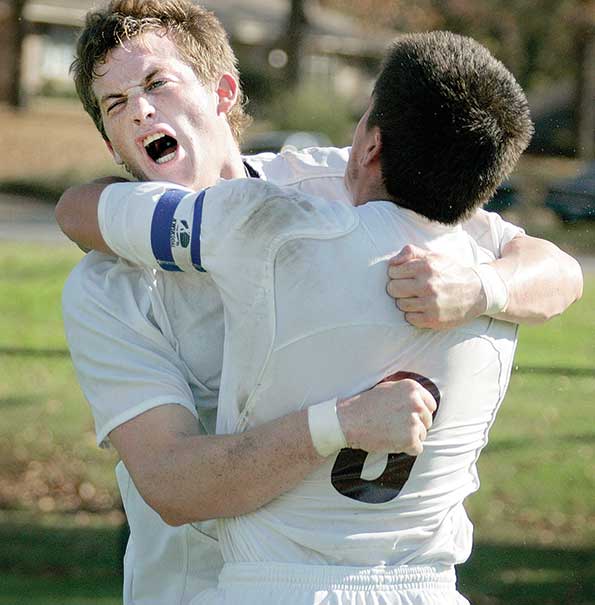 Men's Soccer
Only once in the history of the National Junior College Athletic Association has a men's soccer national championship game gone into double overtime and penalty kicks with the score tied at 0-0. It was in 2009, and the teams were Tyler (Texas) Junior College and Georgia Perimeter College.
The NJCAA inducted GPC head soccer coach Marc Zagara into its Hall of Fame four days before that game, along with Tyler's coach, Steve Clements. Their defenses that season are among the best in NJCAA history, because both teams took lightning offenses into that classic championship battle.
In his 23 years at GPC, Zagara lifted the college's soccer program to exceptional national prominence. The Jaguars won the NJCAA national championship in 2005, finished second three times and attended the tournament eight times, six consecutive years from 2004 to 2009.
When Bill Kemp and Tip Goza started the DeKalb College program in 1965, they certainly did what they could to make it competitive.
"We asked the Atlanta Chiefs (a professional team) to give us a workshop on soccer strategy, and they did," Kemp said in a 2004 interview.
In the early 1980s, coach Bill Grey produced some successful soccer teams, recalls former athletic director Greg Ward. Records from that era are not available.
After All-American Fabian Priestly and others lifted the program into the modern era in the 1990s, individual highlights came fast and furious. Ralph Rousseau led the 2005 national champions with a school record 79 points (31 goals and 17 assists); All-Americans Louis Campo, Ricardo Cardoso and Jamaar Miller made eye-popping plays; Martin Nunez led the NJCAA in scoring in 2006 and teammates Heber Hernandez and Lucas Rogue finished third in scoring and first in assists, respectively; other stars included Marco Aguirre, Mike Mecerod, Boubacar Toure, Richard Cayonne, Mo Babouli and Brayan Rodriguez, to name a few.
The Jaguars were regularly ranked in the top 10 in the NJCAA coaches poll and placed at least one player on the NJCAA All-America team every year from 2004 to 2011.
The Atlanta Chiefs workshop came full circle when two offensive stars on that 2009 team, Junior Sandoval and Rury Alvarez, went on to play in the North American Soccer Association — for the Atlanta Silverbacks.
---
Women's Soccer
What a phenomenal season—the season of Anyanwu, Adeshigbin, Chukwuji, Egwuenu and Klingensmith!
Georgia Perimeter College's women's soccer team entered that 2010 season with high hopes, having finished 11-6 the year before after a 6-11-1 record in 2008, Bruno Kalonji's first season as head coach.
"We have raised expectations," Kalonji said prior to the 2010 opener. Raised, indeed—the Jaguars finished third at the NJCAA national tournament in his third year at the helm.
Women's soccer emerged as a collegiate sport at what was then DeKalb College in the early 1990s. In 1995, coach Larry Armstead kicked off the college's modern era with a conference championship. The '95 team featured All-American Amy Williams—who was also a softball star.
In 2010, the team soared. GPC's road to nationals went through conference rival Darton State College in Albany, which hosted the GCAA tournament. In the championship match, after regulation play and overtime, they were tied 2-2. The Jaguars won on nail-biting penalty kicks and went on to win the district game to advance to nationals.
At Topeka, Kansas, the Jaguars won their first game, fell to the eventual national champion in the semifinals and bounced back to win the third-place consolation game. The victory wrapped up a 21-1-2 season in which the Jaguars shut out opponents 16 times. They scored 151 goals and allowed 10.
Four Jaguars won All-America honors—Esther Anyanwu, Linda Chukwuji, Marbel Egwuenu and Tori Klingensmith. Anyanwu led the nation in scoring, with 48 goals and 14 assists, breaking GPC's single-season scoring record set in 2009 by Taiwo Adeshigbin. Adeshigbin wrapped up a two-year career at GPC with 66 goals and 31 assists and went on to play for the University of Missouri.
In 2011 Anyanwu broke Adeshigbin's career record, with 169 points, 74 goals and 21 assists. The Jaguars won the GCAA regular-season championship the next three years but couldn't beat Darton in the 2011, 2012 and 2013 conference tournaments to return to nationals.
Those seasons were laced with heroics, as GPC suffered no regular-season losses between 2011 and 2013, tying Darton four times during that streak. Anyanwu and Chukwuji repeated as All-Americans, and Alex Truitt led a remarkable defensive line to earn two All-America honors.
---
Men's Tennis
When the University of Georgia defeated Tennessee to win the 2001 NCAA national men's tennis championship, the Bulldogs won all but one of the six singles flights. The one they did not win was taken by Mario Toledo, a Georgia Perimeter College alumnus.
Toledo starred during a DeKalb College-GPC sports dynasty that began when versatile coach Bill Kemp took over the men's tennis team in 1991. Kemp had started DeKalb College tennis in 1965 with some success, and Hal Herring had mentored successful teams in the 1980s, but the college hadn't seen the glory yet to come.
Competing in NJCAA Division 2, Kemp's teams went to five straight national tournaments, and he was inducted into the NJCAA Hall of Fame.
Coach Billy Pate's team won the college's first national championship in 1998. The Jaguars repeated as champs in 1999 and 2000. Coach Chris Decker's team won GPC's fourth consecutive national title in 2001.
Toledo and Barosz Koldej won the No. 1 and No. 2 singles and No. 1 doubles championships two consecutive years, and in 2000, all six singles flights at nationals were won by GPC players—that's six All-Americans. Toledo was named NJCAA Athlete of the Year for all sports.
Renato Silvier won his second No. 1 singles national championship in 2002, and Lucas Melero followed the feat in 2003 ­—the sixth straight year the college won that title. In 2004, coach Solomon Demeke guided the team to a national runner-up title.
The program won 15 consecutive conference championships before joining Division 1 competition in 2005. Led by All-American Gabriel Frias, the Jaguars finished fifth that year in the highly competitive national tournament.
Rebuilding the program after some down years, Coach Mohamed "Reda" Nait Omar took the Jaguars to a seventh-place finish in 2011. Salif Kante won No. 1 singles, and he and Ismail Lemtouni finished an undefeated season in No. 1 doubles with the national title.
Lemtouni returned to nationals in 2012 with an all-freshman lineup except him. The Jaguars captured third place with three players winning All-America honors— Menford Owusu (No. 1 singles), Lemtouni (No. 2 singles) and Davis Dawson (No. 1 doubles with Lemtouni).
In 2013, GPC finished sixth with All-American Gelawydiyos Haile leading the way.
---
Women's Tennis
Georgia Perimeter College's women's tennis program owned one of the six national championships brought home by the college's athletic teams.
While the men's tennis program collected 15 consecutive conference championships, the women's program was busy, beginning in 1987, winning 14 straight trips to the NJCAA Division 2 national tournament under head coach Joyce Garrett.
The pinnacle: Garrett's Jaguars won the national championship in 2000, the same year the men's tennis team under coach Billy Pate won a third national title.
Joy Mitchell, also a star on GPC's women's basketball team, led the way with fellow All-Americans Mayumi McDowell, Cindy Delgado, Eishin Toyomura and Stephanie Blake. Garrett entered the NJCAA Hall of Fame.
After Garrett retired, the program struggled until Mohamed "Reda" Nait Omar became head coach in 2008. The Jaguars immediately became competitive in NJCAA Division 1 and held their own against numerous four-year colleges. In 2010, Mary Slade was the conference Player of the Year. Sadia Mayou was unbeaten in No. 2 singles in 2011.
The breakout year came in 2012, when freshman ace Idia Amen won three matches to advance to the third flight singles semifinals at the Division 1 national tournament, leading the Jaguars to a 12th-place tie in the final rankings.
The Jaguars finished fifth at nationals in 2013 as Amen and freshman Fatyha Berjane won the No. 3 and No. 2 championships, respectively, and Berjane and Nea Krpo finished second in the No. 2 doubles flight.
GPC continued to rise in national circles, finishing third in the 2014 tournament. Berjane almost repeated as No. 2 singles champion, losing a close match in the final for her only singles defeat of the season. D'Asha Davis brought home a runner-up trophy in No. 6 singles.
Along with Berjane and Davis, Niriantsi Rasolomalala and Corina Anghelescu made the tournament semifinals, as did the No. 2 doubles team, Berjane and Drew Anderson. All six singles players and all three doubles teams advanced to the Round of 16, a major team accomplishment.
"I am very proud of the results we had over the years in men's and women's tennis," Nait Omar says. "The players competed, were disciplined and showed great maturity. It was a great run. We built a strong program."